Hepatitis b is caused by the Hepatitis B virus. it is a severe liver infection. it can spread via an infected person's blood, semen, and other body fluids. the antibodies produced by the hepatitis b virus are prevented by the hepatitis b vaccine. if you are living or belong to a high-risk place or group then it may help you develop a hepatitis infection.
if you want to learn more about the hepatitis b vaccine and its benefits then read this article till the end.
Hepatitis B:-
Hepatitis b is a suitable and safe vaccine. it is given to children and infants to protect them from the hepatitis virus and its infection. if this virus attacks anyone then there is a development of liver infection which can become chronic. below are some symptoms which can show on the body from hepatitis B
Dark urine
Appetite loss
Fever
Abdominal pain
Fatigue and weakness
Vomiting
Nausea
Joint pain
The hepatitis B vaccine should be taken by children and infants within 24 hours of their birth. it is recommended by The world health organization. if any adults have diabetes or are at higher risk of developing hepatitis infection due to their location or job then they can also take the hepatitis b vaccine. below are types of vaccines that are mainly used to prevent hepatitis b.
Heplisav-B
Engerix-B
Recombivax HB
We now hope you got to know what is the purpose of the hepatitis b vaccine. apart from it you also should know that if you already suffered from a hepatitis b infection and you are recovering from it then you cannot take its benefits. instead, it will help if you took it as a precaution to avoid its development in the future.
People Who Should Take Hepatitis B Vaccine
If you want to know about the uses of the hepatitis b vaccine then all infants and children up to the age of 18 are able to take its benefits.
Health experts mainly suggest this vaccine to infants and children until the age of 18. best is to give this vaccine to your newborn baby.
Those people who take illegal injections are more prone to develop hepatitis b infection. they should take this vaccine.
Those working in the healthcare section they should get a vaccine. they are at risk of developing this infection since they are mostly handling hepatitis b, positive patients.
Sexual activities invloment:-
A person who is intimate with hepatitis b positive people then that person may be at a higher risk of developing this infection in the future. A person who is homosexual can also get this infection. so these people should consider taking this vaccine to avoid this virus.
Those who have a severe illness:-
Those people who have other kinds of serious health conditions may have weak immune systems. they may develop hepatitis b infection. these include cirrhosis, fatty liver disease, hepatitis c infection, diabetes, HIV infection, and end-stage renal disease facing dialysis.
Now you must have a question what is the suitable dose of the hepatitis b vaccine? there are three doses to complete the hepatitis b vaccine series.
First:- Inftant delivery time but when infants receive in the delivery room
Second:- After at least 28 days of the first shot
Third:- After sixteen weeks of the second dose.
These are the standard hepatitis b vaccine dose for adults. apart from this, there is also an accelerated two-dose series which is preferable for adolescents aged between 11 to 15. you can take your simple blood test for checking your antibody titers. this blood test will confirm if this vaccine successfully produced antibodies in your system.
When you should avoid taking Hepatitis B Vaccine:-
As we know earlier the hepatitis b vaccine is safe but you should avoid taking this vaccine if you have the following conditions
If you are undergoing treatment for a severe illness.
If you have severe allergic reactions from a previous hepatitis medicine or its dose.
If you have any history of hypersensitivity to yeast or any other same-like medicines components.
Side Effects of a Hepatitis B Vaccine:-
Its side effects vary from individual to individual. as this vaccine is safe for many individuals but there might be some side effects from the hepatitis b vaccine
Sore throat
Headache
Fever
Nausea
Redness
Swelling in the injection site
Runny nose
Below are some long-term side effects of hepatitis b
Constipation
Diarrhea
Blurred vision
Back pain
Muscle pain
Breath difficulties
Skin rash
Cramps on stomach
Now you can see that the hepatitis b vaccine is the easiest way to avoid hepatitis infection. doctors recommended giving a hepatitis b vaccine shot immediately after baby delivery. also, adults can also take this vaccine if they are at risk of this infection.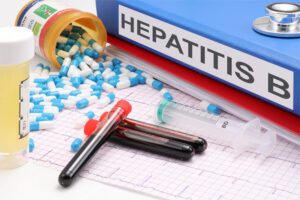 FAQ:-
Q1:- What is the main cause of hepatitis B?
Ans:- when blood, semen, or other body fluids from a person infected with the virus enters the body of someone who is not infected.
Q2:- What are the 3 stages of hepatitis B?
Ans:- prodromal phase, icteric phase and convalescence phase
Q3:- What food is good for hepatitis B?
Ans:- fruit, whole grains, fish and lean meats, and a lot of vegetables
Q4:- What is the full treatment for hepatitis B?
Ans:- Antiviral medications
Also, Learn about What is Dengue – 3 Types of Dengue Fever- Their symptoms – Treatment- Precautions