Over worldwide, obesity is a global problem. the keto diet is a meal that helps reduce obesity and improve your metabolism. everyone nowadays approaches this keto diet for weight loss and it is also suggested by many dieticians for overweight people. so if you do not know what is keto diet and what are its benefits then here is the article about What is Keto Diet in weight loss and its benefits so read this till the end.
What is Keto Diet in weight loss?:-
The food includes in the keto diet where you will have high fat, low carbohydrate, and moderate protein. so the main purpose of this diet is to reduce the intake of carbohydrates and increase fat intake. which gives you results in the way that your body will convert fat into ketones which supply energy to your brain and you can manage your weight loss and your insulin levels. With the help of moderate protein intake, your muscle mass increases in the keto diet. it will control your hunger and provide you with the best result in weight loss.
How the Keto Diet Help in Weight Loss:-
After continuously taking Keto Diet in your weight loss journey your body comes under a metabolic state which is known as ketosis. your body becomes active in burning your fat and produces ketones for energy, not carbohydrates. The Keto diet reduces the sugar level of the body which breaks your fat for energy. it also lowers your insulin level and helps in managing your sugar levels. The Keto diet controls your appetite which regulates your hunger hormones. According to the studies, there are some trials set on some people who follow the keto diet with only vegetables and some other people with a low-fat diet. then after some months, the peoples who follow the keto diet with vegetables lose more weight than other people who take a low-fat diet. after some more month peoples lose more weight with the keto diet than other who follows a low-fat diet. so with the help of the keto diet, you can lose more weight.
What should eat on Keto Diet:-
There are many food items that you can take on your Keto Diet.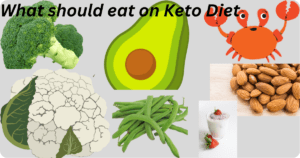 Vegetables                                        –         Broccoli, Cauliflower, Avocado, Spinach, Green beans, sprouts
Seafood                                            –         Crab, tuna, lobster
Poultry                                              –         Boiled egg, scrambled egg, omelets
Meat                                                 –         Beef, Lamb, pork
Fruits                                                –          Coconut, strawberries, limes, lemon
Seeds                                                –         Sunflower, chia, pumpkin
Nuts                                                 –          Almonds, walnuts, peanuts
Dairy                                                –           Cheese, Butter, Yoghurt
Food not taken in Keto Diet:-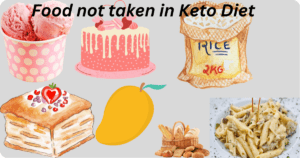 You should avoid some food in Keto Diet
Sugar Food:- Ice cream, cakes, pastry, cookies, sports drinks
Fruits:- Which have sweetness like bananas, mangoes, and grapes.
Whole Grain:- Rice, wheat, etc.
Starch food:- Pasta, Bread, oatmeal, chips, and many more.
Benefits of the Keto Diet:-
There are many benefits of the Keto diet below are some:-
Weight loss
Help improve your skin health
Help reduce the risk of cardiac diseases
it protects your brain cells
Help in improving reproductive health
Help in reducing the blood sugar
Reduce the risk of ovary syndrome
Reduce epilepsy
A side effects of the Keto Diet:-
Along with the health benefits, the keto diet also has some side effects some are below:-
Fatty Liver
Kidney stone
Constipation
Fatigue
Vomiting
Nausea
The main purpose as we discussed before that the limit intake of carbohydrates. but you can consume 45 to 50 gm of carbohydrates per day.
The ketogenic diet is helpful in improving your mind and immune system. but it always suggests taking a consultation with your doctor about your health before taking this keto diet.
FAQ:-
Q1:- Who should not follow the Keto Diet?
Ans:-Diabetic patients, pregnant women, breastfeeding mothers.
Q2:- How long you can follow the Keto Diet?
Ans:- You can go for the first few weeks then some months and then one year if you will not get any health problems.
Q3:- Can you take alcohol in your Keto Diet?
Ans:- No, you can not take alcohol while you are in weight loss with your keto diet .but you can take that alcohol which has low carbohydrates but sometimes.
Also, Learn more about Yoga Asanas for Weight Loss